Beaches and beach resorts in Meta.
The only truly equipped and easily accessible sandy beach on the Sorrento Peninsula.
Despite the nature of the territory of the rest of the peninsula, with cliffs plunging into the sea and a predominantly rocky coastline, Meta is one of the few places to have a beach with a large equipped sandy area where one can comfortably spend their days in the sun and sea in organized facilities with every comfort.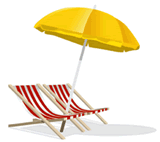 List of beach resorts in Meta.
Lido side
Giosuè a Mare

Via A. Caruso, 2

(+39) 081 878 6685

Lido Resegone

Via A. Caruso, 11

(+39) 081 532 2505

Marinella

Via A. Caruso, 1

(+39) 081 532 2030

Metamaree

Via A. Caruso

(+39) 081 532 2505

Nino Relax

Via A. Caruso

(+39) 339 374 6073

(+39) 338 282 1913
Alimuri side
Golden Beach

I° Traversa Alimuri, 13

(+39) 081 532 2607

Kyma Beach Restaurant

Via I Traversa Alimuri, 8

(+39) 351 127 0166

La Conca

III° Traversa Alimuri

(+39) 081 532 1495