Food and Wine in Meta
Pubs, Restaurants, Pizzerias.
A diverse range of options to discover the flavors and cuisine of tradition in Meta on the Sorrento Peninsula. An opportunity to taste genuine products of the famous Mediterranean cuisine that the whole world envies.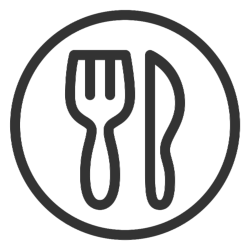 Where to eat in Meta.
Annare'

Corso Italia, 54

(+39) 081 534 2188

Covent Garden Risto-Pub

Via del Salvatore, 8

(+39) 081 534 2188

Dal Ceppone Pizzeria

Via Guglielmo Marconi, 48

(+39) 081 532 1722

Don Giovanni by Mazz' e Panell'

Via Caracciolo, 189

(+39) 081 808 8499

Ristobar Antonietta

Via Angelo Cosenza, 145

(+39) 081 1917 7022

Ristorante Chalet Nino Relax

Via Antonio Caruso

(+39) 333 522 4036

Ristorante Marinella

Via A. Caruso, 1

(+39) 081 532 2030
Companies producing typical products
Villa Massa "Limoneto Le Grottelle"

Via Tommaso Astarita, 34

(+39) 081 533 32 82

(+39) 081 878 80 04

www.villamassa.com
Products and specialties of tradition
Sorrentine pastiera and bicchinotto

From the enclosed convents to the kitchens of every home during the Easter period, on Holy Thursday at the end of Lent, pastiera is prepared and its pleasant aroma of its ingredients such as orange blossom, combined with ricotta, wheat, candied fruit, cinnamon, eggs and sugar, spreads throughout the rooms. You should also taste the "bicchinotto," an ancient sweet stuffed with sour cherries, modified by the pastry chefs of Meta with almond paste and pastry cream, and dusted with powdered sugar, also offered to King Ferdinand IV and his wife Maria Carolina when they arrived in Meta on September 16, 1783 to honor the Madonna of Santa Maria del Lauro.

Eggplant with chocolate

In Meta, the nuns were especially skilled in preparing sweets, which they would then give to the local ladies who would bring them to the hospice on feast days, placing them on hand-painted ceramic plates. The demand was high due to the genuineness of the product and the particular taste, which was often due to recipes that came from Spanish convents influenced by Eastern 'spice" flavors. These were, therefore, special recipes that were often kept secret, such as the one for eggplants stuffed with sponge cake crumbs, chopped almonds, and soaked in rum, and then sprinkled with a thick cream made of milk, starch, sugar, and cocoa.

Sorrento lemon (P.G.I.) and Limoncello

The prized Sorrento Lemon is at home in Meta. Also known as the Sorrento Oval Lemon, it is the typical lemon variety cultivated for centuries on the Sorrento Peninsula, which is rich in precious essential oils. To preserve its typicality, Sorrento Lemon has obtained the European recognition of Protected Geographical Indication (P.G.I.). Sorrento Limoncello derives its popularity from this exceptional raw material.